Video Intercom Systems are a great way to see who is waiting outside your gate within the safety of your home.
We proudly offer to supply and install a wide range of Intercom System allows you to see who at your front gate and provide you with advanced security.
Contact our team now to discuss more about your Video Intercom requirements or request a free quote now and we'll get back to you within the day before 9pm.
Most Purchased Video Intercom Packages:
Panasonic Intercom System – from $990 inc GST installed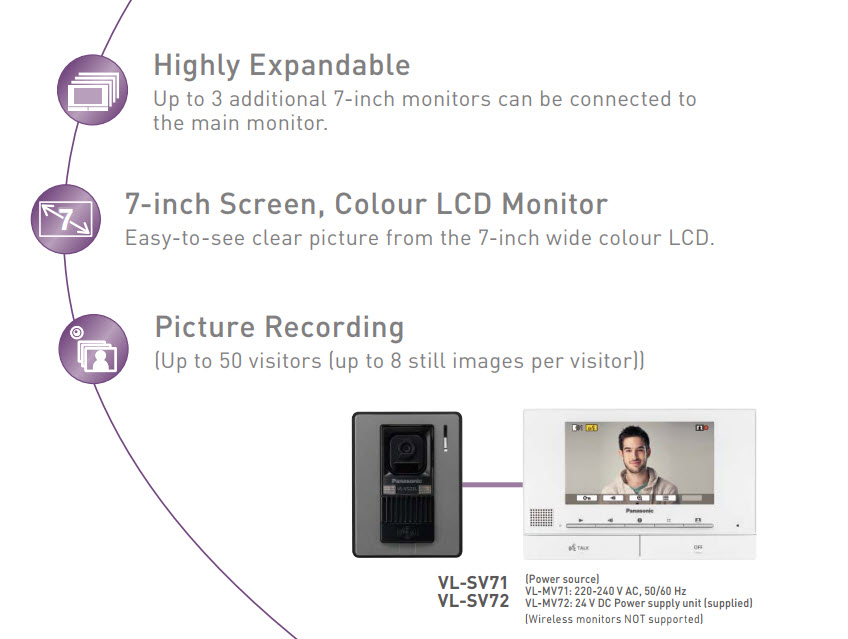 Panasonic 7″ Colour LCD Screen
Panasonic weatherproof door station
Has memory function – up to 50 messages
Door release button
Additional monitor – 440 (GST inclusive)
Double storey fee (if not prewired) – 275 (GST Inclusive)
12 Months WARRANTY
Enjoy two-way video/audio talk, visitor video messaging, record door station camera snapshots/footage and more. Ideal for
homes, apartments, duplexes and business, the Dahua IP Intercom series also integrates with most door strikes
and sensors.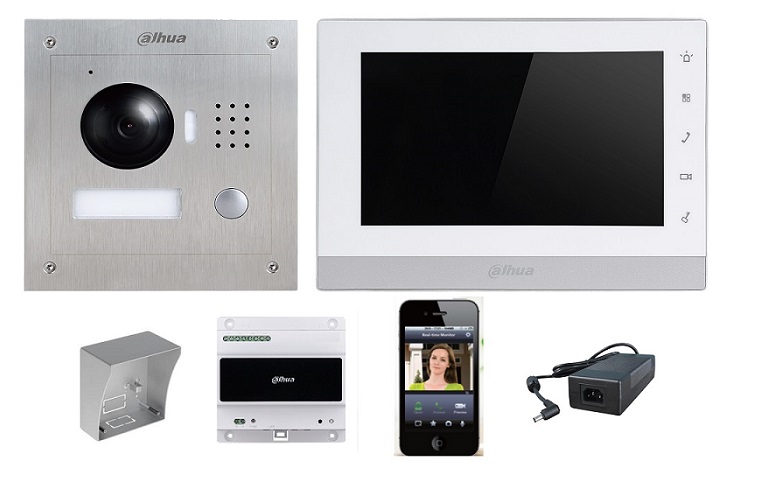 Double storey fee (if not prewired) – 275 (GST Inclusive)
Additional monitor – 650 (GST inclusive)
Additional door station – 490 (GST inclusive)
This Hikvision IP Video intercom Kit will not only add an additional level of security surveillance to your home but creates a hub for emergency response and adds an access control dimension to reinforce a sense of protection in the home or workplace. Its high quality voice transmission and picture quality provides an outstanding user experience. In addition, these exceptional features and more can be easily managed with a mobile app, making communication, simpler and more technologically advanced than ever before.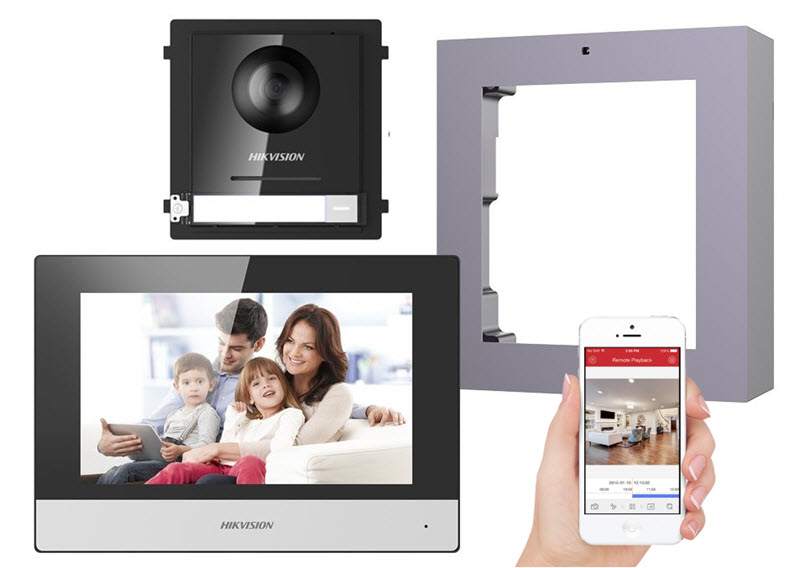 Hikvision Villa IP Intercom option – from 1870 inc GST
Double storey fee (if not prewired) – 275 (GST Inclusive)
Additional monitor – 700 (GST inclusive)
Additional door station – 490 (GST inclusive)
Hikvision 2 Wire Video Intercom Model
Panasonic Premium Intercom System  with Wireless Dect Handset $1950 – Fitted Including Cables & Labour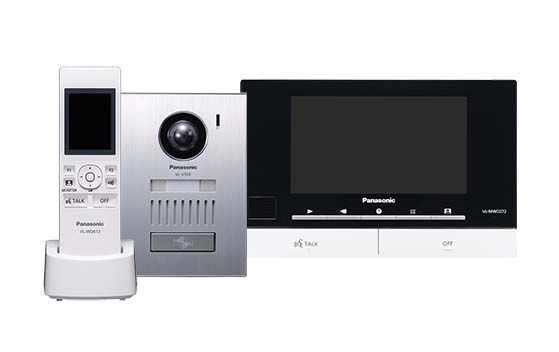 Highly Expandable
Freely add 7-inch wide extension monitors or wireless monitors. (up to 7 monitors in total)
Wireless Monitor with DECT Technology
Answer visitors any where in the house.
7-inch Screen, Colour LCD Monitor
Easy-to-see clear picture from the 7-inch wide colour LCD.
FEATURES
7-inch wide colour W VGA (800×480 pixels)
2.2-inch colour QVGA (320×240 pixels)
View angle: Horizontally: Approx. 170° Vertically: Approx. 115°
7-inch extension monitor: up to 3
2.2-inch wireless monitor: up to 6
PBX can be connected
Electric lock release support (Up to 2)
Picture recording (Up to 50 visitors (up to 8 still images per visitor))
Night vision, Voice changer

Extras
Double storey fee (if not prewired) – 275 (GST Inclusive)
Door strike / release option – around 440 (GST inclusive)  additional costs depend on distance of gate from house as underground cabling is required.
Additional wireless monitor – 495 (GST inclusive) – Additional wired monitor – 660 (GST Inclusive)
Additional door station – 495 (GST inclusive)
Double brick fee – 200 (GST inclusive)
VL-SWD273_Brochure   /  VL-SWD273__Spec Sheet
The Aiphone AI-WL-11 is a wireless video intercom system with 1.9 GHz band frequency. This system is practical and easy to install as it does not require any wiring which cuts down installation time. It has a 100m wireless distance provided there are no obstructions, meaning you can take it anywhere around the area.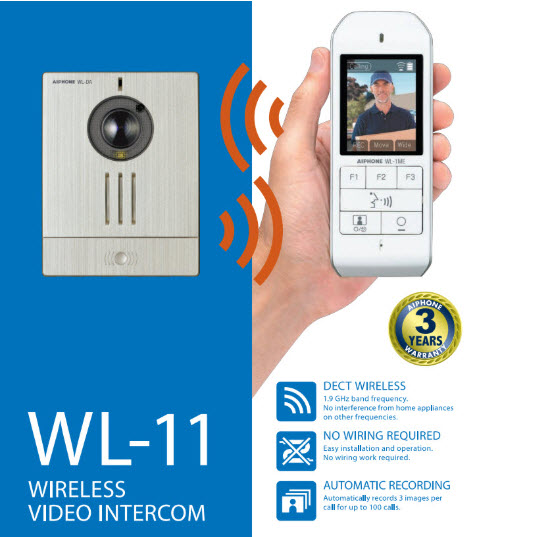 An Extremely Effective Communication Tool
Wherever you happen to be, in school, on a bus, aboard a plane or a hotel foyer you will hear the muffled sound of an intercom system relaying messages to targeted individuals or even yourself. If someone has lost something at these places and others, an announcement can be made via the intercom system to announce the lost article so that the owner can collect it. An intercom system is one of the most useful forms of communication systems and at SecurityInstallers.com.au we supply the best intercom system on the market.
Versatility and flexibility
An intercom system can be used to facilitate communication between people living inside a building and also with those who are outside the building. The best example of this situation can be seen in security flats where inmates can only be visited if they know who the visitor is. Sometimes, live images can be used to identify whoever is visiting, but in most cases, an intercom system is used to identify and open or keep the door closed, depending on who the visitor is. Intercoms can be used in offices with closed off rooms, or in houses to enable dwellers to identify or communicate with people at the gate. They are also found in hospitals, colleges, halls and even private cars.
Adding weight to cognizance ability
To simply hear someone's voice on the intercom can give instant recognition of that voice and as a result, you either keep the door closed or you open the door to let them in. Video images can actually add weight to you cognizance abilities and you can quickly make the right choice after viewing the person at the door or the door or gate. You can answer whoever is addressing you on the system from anywhere in the house. It is one of the safest methods of identifying whoever is at your door trying to enter. At SecurityInstallers.com.au, we offer a whole range of video intercom systems that can satisfy a variety of needs at different types of buildings and premises.
Using the intercom over distance
Many houses have very long driveways and in many cases, the gate is often located at a fair distance from the house. This is where an intercom capability comes into play. An intercom complemented by remote control that can open and shut your gate is the most appropriate type of security system you can possess. These products are the most essential you can have and at SecurityInstallers.com.au, we can supply you with the best intercom system plus any complementary systems that go with it. If you desire to install an intercom at your house of anywhere from a distance, just do this simple task.
Contact us
Ring us on(03) 8513 0799 and our professionals will help you choose the right intercom system and install it for you along with any other complementary systems.
Video Intercom Systems in Melbourne
SecurityInstallers.com.au's vast range of intercom systems provide a safe and efficient way of screening all visitors to your home or business in Melbourne, minimising the potential risks associated with opening your doors to unwanted guests. Not only do our intercom systems provide you with video verification of all visitors, staff also have the ability to...