Video Intercom Systems are a great way to see who is waiting outside your gate within the safety of your home.
We proudly offer to supply and install a wide range of Intercom System allows you to see who at your front gate and provide you with advanced security.
Contact our team now to discuss more about your Video Intercom requirements or request a free quote now and we'll get back to you within the day before 9pm.
Most Purchased Video Intercom Packages:
Haakili Video Intercom – $ 895.00 Fully installed (Single storey only)
Hands free Internal monitor – Model – M740b-C541
7″ LCD Colour screen (wide screen)
Built in memory (100 images)
Saves images of whoever presses the doorbell!
Door release button
Internal communication between monitors
IR night vision at front door station
12 Months WARRANTY
> Extra monitor – 350. Extra door station – 200.
Dorani 600 Series – $965 Fully Installed

Comes with 1 door station and 1 monitor (please choose a colour)
Additional monitor = $440
Available in Black or White monitors
LEDs for night vision mode
12 Months WARRANTY
Dorani Touch – From $1265 Installed (2 & 4 wire systems)
The Dorani Touch is the latest system from Dorani.
$1265 Installed (2 & 4 wire systems).
Price assumes single storey house or prewired double storey home.
If the single or double storey have been prewired, then you may subtract -$100 from the price.
Comes with 1 door station and 1 monitor
Additional monitor = $450
LEDs for night vision mode
12 Months WARRANTY
Dahua

Touchscreen IP Intercom System $1870 Installed
An IP Intercom system allows you to view who is at the door via your smartphone. If you have a door strike in place, it also has the ability to unlock the gate via your phone.

The door station is operated simply via a single button whilst the indoor monitor uses a touchscreen. The system supports remote unlock, missed/placed/received call details, visitor audio/video messaging and group calling functions
System Includes:
• 1x 7" Touchscreen Indoor Monitor
• 1x IP Door Station with 1.3 Megapixel Camera
• 1x 30m CAT5e Ethernet Cable
• 1x Ethernet kit
• 2x 12V DC Power Supplies*
* Power over Ethernet (PoE) available using WT-CAT5POER
$495 for an extra door station
$700 for an extra monitor
Panasonic Premium Intercom System  with Wireless Dect Handset $1950 – Installed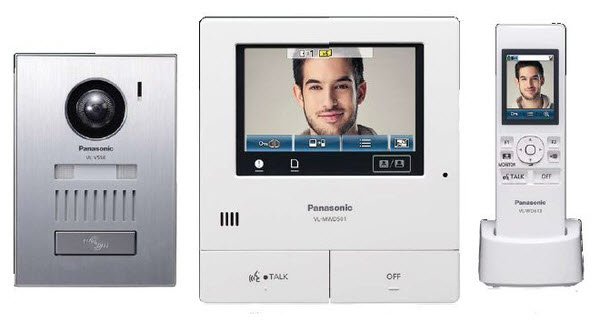 Package Snapshot:
> Wireless Handset – Check visits from anywhere. UP to 6 wireless monitor connectable. Max wireless range is 100m with no obstacles. You can add on repeaters expand the range. UP to 2 DECT repeater connectable
> Large Touch Panel: The main monitor has a large, 5 inch wide screen that clearly shows each visitor's face. You can simply touch the screen to activate an• .approximate 2x zoom horizontally and vertically
> Electric Lock Release Support for Gate: The gate or door lock can be easily and quickly released even from the second floor of the house• .
> Wide-Angle Camera: Wide-angle lens covers approximately 170 degrees horizontally and 115 degrees vertically• .(SD Card Recording: Automatically record video images of visitors to SD card. It will record up to 3,000 visitors (30 seconds per visitor• (.The SD Memory Card is sold separately)
> Night Vision: Door Station is equipped with LED lights (illumination lamp). It enables the colour display of visitors at a distance of about 50 cm at night

Extras
Door strike / release option – 440 (GST inclusive)  additional costs depend on distance of gate from house as underground cabling is required.
Additional wireless monitor – 490 (GST inclusive) – Additional wired monitor – 550 (GST Inclusive)
Additional door station – 495 (GST inclusive)
Other Intercoms
We also have a massive range of intercom systems available, including IP based intercoms which allow you to see who is at the gate on your phone! Simply make an appointment with us and we'll come out and show you what we've got available.
An Extremely Effective Communication Tool
Wherever you happen to be, in school, on a bus, aboard a plane or a hotel foyer you will hear the muffled sound of an intercom system relaying messages to targeted individuals or even yourself. If someone has lost something at these places and others, an announcement can be made via the intercom system to announce the lost article so that the owner can collect it. An intercom system is one of the most useful forms of communication systems and at SecurityInstallers.com.au we supply the best intercom system on the market.
Versatility and flexibility
An intercom system can be used to facilitate communication between people living inside a building and also with those who are outside the building. The best example of this situation can be seen in security flats where inmates can only be visited if they know who the visitor is. Sometimes, live images can be used to identify whoever is visiting, but in most cases, an intercom system is used to identify and open or keep the door closed, depending on who the visitor is. Intercoms can be used in offices with closed off rooms, or in houses to enable dwellers to identify or communicate with people at the gate. They are also found in hospitals, colleges, halls and even private cars.
Adding weight to cognizance ability
To simply hear someone's voice on the intercom can give instant recognition of that voice and as a result, you either keep the door closed or you open the door to let them in. Video images can actually add weight to you cognizance abilities and you can quickly make the right choice after viewing the person at the door or the door or gate. You can answer whoever is addressing you on the system from anywhere in the house. It is one of the safest methods of identifying whoever is at your door trying to enter. At SecurityInstallers.com.au, we offer a whole range of video intercom systems that can satisfy a variety of needs at different types of buildings and premises.
Using the intercom over distance
Many houses have very long driveways and in many cases, the gate is often located at a fair distance from the house. This is where an intercom capability comes into play. An intercom complemented by remote control that can open and shut your gate is the most appropriate type of security system you can possess. These products are the most essential you can have and at SecurityInstallers.com.au, we can supply you with the best intercom system plus any complementary systems that go with it. If you desire to install an intercom at your house of anywhere from a distance, just do this simple task.
Ring us on(03) 9013 3803 and our professionals will help you choose the right intercom system and install it for you along with any other complementary systems.
SecurityInstallers.com.au's vast range of intercom systems provide a safe and efficient way of screening all visitors to your home or business in Melbourne, minimising the potential risks associated with opening your doors to unwanted guests. Not only do our intercom systems provide you with video verification of all visitors, staff also have the ability to […]